REVERSE OSMOSIS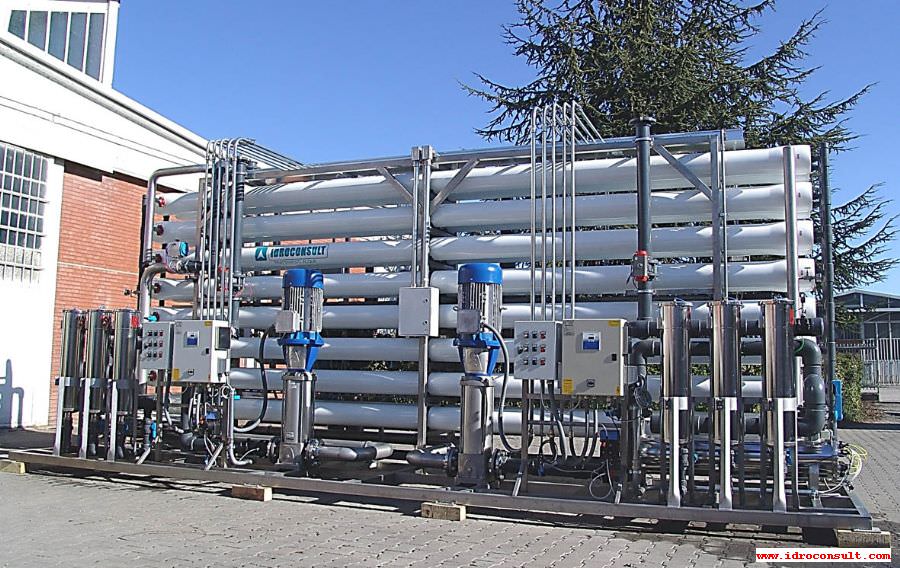 PURE WATER

REVERSE OSMOSIS PLANTS - SM Series
The salts of calcium, magnesium, iron, silica, manganese, barium, chlorides, in combination with carbonates, bicarbonates and sulphates are present in the water pumped from the wells, in increasing amounts.
That causes fouling, scaling in the cooling circuits, reduces the heat transfer in the steam generators, causing pollution in groundwater.
Based on molecular separation, Reverse Osmosis process allows to obtain the purest water, eliminating up to 99.5% of the water salt content.
The Reverse Osmosis Process is far superior to the resin demineralization process, for steam boilers application.
Some of the main differences are below listed:

No needing of regeneration
The water production is continuous at a constant flow rate 24/24 h, therefore there is no needing to double the equipment to meet the production requirements.

Water produced at constant quality
While the resin demineralizer between the start and end of the cycle has a growing salinity of the produced water, a reverse osmosis plant produces water always at low values ​​(10 to 15 mS / cm).
Additional differences:
-No need for acid and soda
-It does not pollute
-The lowest operating cost
-It does not require calibration and controls during duty
-Easy to be serviced
-Small size if compared to resin systems

These reasons are enough to justify the choice of the osmosis process, which is now a widely used technology since over 30 years in the industry.
The Reverse Osmosis plants manufactured by Idroconsult are supplied in packaged units already assembled and tested electrically and hydraulically.

The technology of reverse osmosis is also used in the field of drinking water to produce water suitable for human consumption.
Reverse osmosis, as well as for the reduction of the salt content of water up to a specific level, is one of the available technologies for the removal of Arsenic, nitrates, of boron.

For the above considerations, the reverse osmosis plants are used to produce water in the food industries, for irrigation, for resorts, water parks, etc..

Fotogallery
CONTACT FORM
Information request
The data marked with an asterisk (*) are required.
From 1971 in the water conditioning sector

Idroconsult was the first company in Italy to perfect a highly efficient and economic insolubilisation process of metals

Certification ISO 9001

All the procedures are strictly controlled, from design to manufacture and testing

Monitoring and remote control systems

Was among the first in Italy, back in 1980, to equip its purification systems with monitoring and remote control systems

Exports

The technologies developed in 35 years of business have enabled us to export both compact and larger systems