Ultrafiltration under Pressure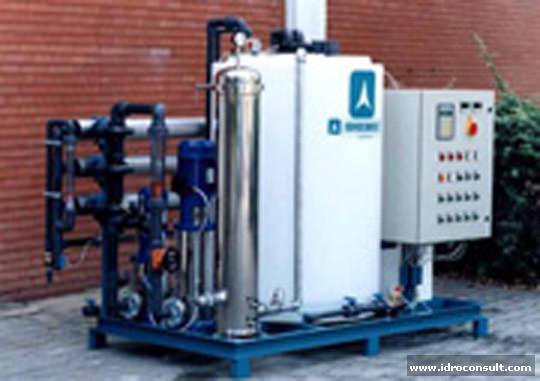 The most commonly used ultrafiltration technology currently available is that carried out under pressure, utilising wound spiral membranes or ones with hollow fibres, depending on the specific case.
Ceramic versions are particularly suitable for the pharmaceutical and foodstuff sector, thanks to the possibility to purify at high temperatures.
This process generally works at low pressure with high specific flow rates.
The wound spiral configuration foresees the adoption of multiple wound spiral layers of special materials, which may vary depending on the applications.
The inlet and outlet are co-axial compared to the axis of the membrane, making them less subject to superficial fouling and to pre-treatment effects.
Idroconsult also offers tubular ceramic membranes with high contact surfaces for special applications.
In this case too, the specific flow rates are very high.
Ceramic membranes are highly resistant to aggressive liquids and can work at different temperatures without variations in performance.
Fotogallery
CONTACT FORM
Information request
The data marked with an asterisk (*) are required.
From 1971 in the water conditioning sector

Idroconsult was the first company in Italy to perfect a highly efficient and economic insolubilisation process of metals

Certification ISO 9001

All the procedures are strictly controlled, from design to manufacture and testing

Monitoring and remote control systems

Was among the first in Italy, back in 1980, to equip its purification systems with monitoring and remote control systems

Exports

The technologies developed in 35 years of business have enabled us to export both compact and larger systems