DE-IRONING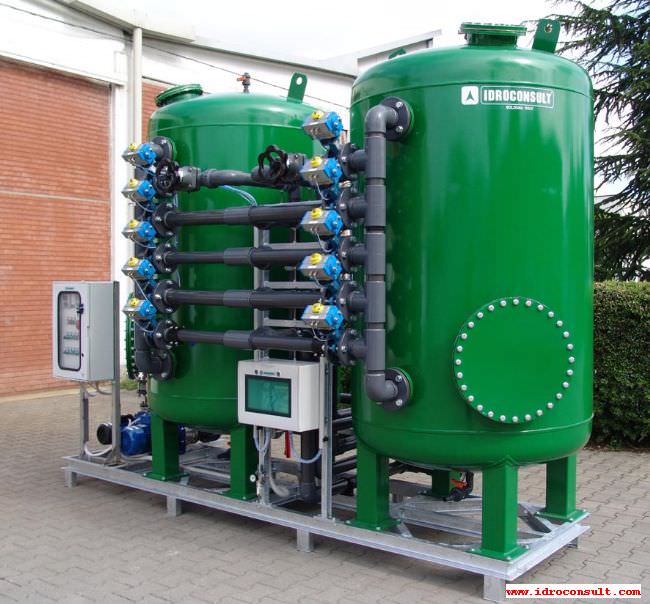 THE PROBLEM OF IRON
The Iron is one of the most difficult contaminants to remove because it may change the valence state.
When oxygen or an oxidizing agent is introduced, iron precipitates, leading to a rusty appearance in water.
Iron can create havoc with valves, plumbing, water treatment equipment and water using devices (like car wash systems).
Certain bacteria forms with iron a rusty, gelatinous sludge that can plug the water pipes.
OUR SYSTEMS
Three types of systems are used, depending on the type of application, on the flow rate and on the concentration of iron to be eliminated.
DE-IRONING SYSTEMS WITH CATALYTIC RESINS (WFI/B Series)
The de-ironing systems of the WFI/B SERIES eliminate the iron and the manganese in solution by utilising specific catalytic resins that act in the presence of the oxygen within the water to be conditioned.
They are totally automatic and fully standardised.
DE-IRONING SYSTEMS WITH MANGANESE RESINS (WFI/A Series)
These are systems of industrial application, suitable for high flow rate process fluids and utilise catalytic type resins that can be regenerated with an oxidizer.
DE-IRONING SYSTEMS WITH SELECTIVE RESINS (WFI/R Series)
These are employed for industrial process fluids where a high level of quality is required. They exploit specific chelating resins that can be regenerated with acids and bases.
They are also suitable to be used in particular conditions (temperature, pH).
Fotogallery
CONTACT FORM
Information request
The data marked with an asterisk (*) are required.
From 1971 in the water conditioning sector

Idroconsult was the first company in Italy to perfect a highly efficient and economic insolubilisation process of metals

Certification ISO 9001

All the procedures are strictly controlled, from design to manufacture and testing

Monitoring and remote control systems

Was among the first in Italy, back in 1980, to equip its purification systems with monitoring and remote control systems

Exports

The technologies developed in 35 years of business have enabled us to export both compact and larger systems