WASTEWATER TREATMENT PLANT SL SERIES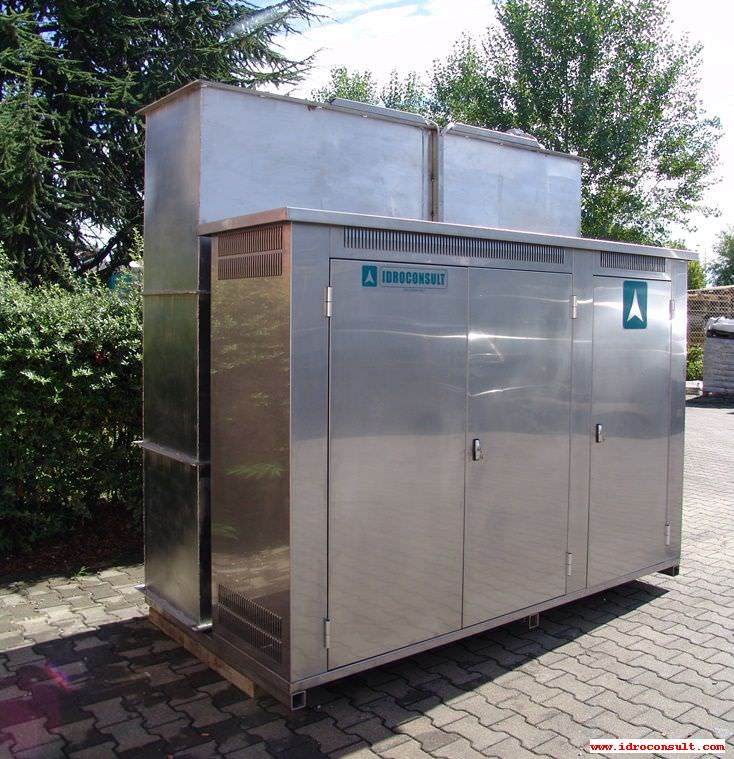 WASTEWATER TREATMENT PLANT SL SERIES PURIFIERS FOR REPAIR SHOPS/DE-WAXING CENTERS
A chemical-physical type system of our SL series is installed for repair shops and car dealers with medium and large potentials. These systems exploit the chemical flocculation and sedimentation process, combined with the physical filtration process on quartz/charcoal to obtain water that is safe to drain into the sewers. Systems of this series are remarkably rational, which means that all the equipment can be installed in just one compartment within the main structure. This means that they can also be installed outdoors, as they are designed so that they are already protected against bad weather, plus they have lockable doors to prevent access to unauthorised personnel. An impressive supply of optional devices further increases the degree of automation of these systems, such to minimise operator intervention.
Advantages:
Ideal in the presence of high polluting loads, suspended metals. It is one of the most efficient and complete chemical-physical systems currently available on the market. A number of optional devices can be supplied to further increase the already high degree of automation.

Re-use:
- 50 % max of water treated
Performance:
- from 1 m³/h to 5 m³/h
Size:
- from 1,7 x 1,4 x 2,5 m to 2,6 x 2,0 x 2,5 m
Power:
- from 1 to 3 kW
Fotogallery
CONTACT FORM
Information request
The data marked with an asterisk (*) are required.
From 1971 in the water conditioning sector

Idroconsult was the first company in Italy to perfect a highly efficient and economic insolubilisation process of metals

Certification ISO 9001

All the procedures are strictly controlled, from design to manufacture and testing

Monitoring and remote control systems

Was among the first in Italy, back in 1980, to equip its purification systems with monitoring and remote control systems

Exports

The technologies developed in 35 years of business have enabled us to export both compact and larger systems